Marian-Andrei Rizoiu.
I am a Senior Lecturer in Behavioral Data Science with the Data Science Institute at the University of Technology Sydney, where I lead the Behavioral Data Science lab, studying human attention dynamics in the online environment. I am interested in stochastic behavioural modelling of human actions online, at the intersection of applied statistics, artificial intelligence and social data science.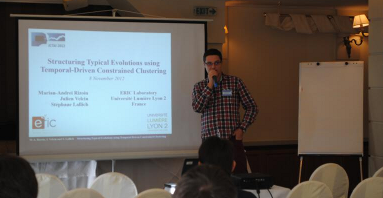 Research
My research has made several key contributions to online popularity prediction, real-time tracking and countering disinformation campaigns, and understanding shortages and mismatches in labour markets.
First, I developed theoretical models for online information diffusion, which can account for complex social phenomena. My models answer questions such as "Why did X become popular, but not Y?" and "How can problematic content be detected based solely on how it spreads?". Second, I built skill-based real-time occupation transition recommender systems. These systems link social media predicted personality profiles with worker occupation attributes to construct personalised career recommendations.
See more about my research.
News
See the lab's news page for more recent news.
2019-10: Together with Amelia Johns and Fracesco Bailo, I was awarded a prestigious Facebook grant on Using computational modelling of user behaviour and machine learning to counter the diffusion of hate speech across social media.
2019-10: I wrote a piece for the influential media outlet The Conversation entitled Can hiding likes make Facebook fairer and rein in fake news? The science says maybe, which received significant attention on social media (Twitter & LinkedIn), from the FEIT and UTS media departments. Subsequently, I was interviewed on the radio about the work and the phenomenon.
Back to Top